The Harrison County Sheriff's Office communications division is the heartbeat of the agency. Our Dispatchers are vested with the responsibility of answering calls for assistance from the citizens of Harrison County and our visitors. These dispatchers are not only the heartbeat of the department but are the lifeline to those officers on the other side of the radio. Our dispatchers are highly respected and are considered as a friendly voice that is here to help.
Dispatchers provide the single most reliable means of communications between the citizens and the officers responding to calls for assistance. The proper discipline that our dispatchers show when taking calls for assistance are essential in order to prevent confusion and unnecessary loss of life.
Automatic vehicle location (AVL)
For automatically determining the geographic location of a Patrol vehicle that is closet to any incident for a quicker response. Dispatchers can look on the map and see where any patrol vehicle is located.
All calls for service are handled in a professional, business-like manner. All necessary information is obtained from the caller and passed along to the responding officer. Of necessity, calls for service are prioritized based on the seriousness and urgency in accordance with established guidelines. Our office demands that telephone courtesy be used at all times to ensure that a calm, decisive and professional sounding voice is heard by the person calling the office.
Depending on the call volume, you may encounter our phones being answered "HARRISON COUNTY SHERIFF'S OFFICE, DO YOU HAVE AN EMERGENCY, CAN YOU HOLD." If your call is not an emergency, please tell us. We understand that delays are irritating to you as a caller and will assist you as soon as possible. The communications center handles multiple telephone and 911 phone lines.
Our dispatchers try to make sure all information is factual, as false information will only hinder the officers on the streets from doing his/her job efficiently and effectively.
The Harrison County Sheriff's Office Communications Center has the responsibility of handling all calls for service from all citizens in the unincorporated areas of Harrison County, in the City of D'Iberville and in Pass Christian. Our dispatchers are trained for not only law enforcement calls, but also for fire related calls. The communications center has the ultimate responsibility of getting assistance to those that call for help. The communications center and staff is under the direct supervision of Jonnine Fisher.
Emergency Calls should be routed to 911. To report a NON-Emergency Crime call 228-865-7060.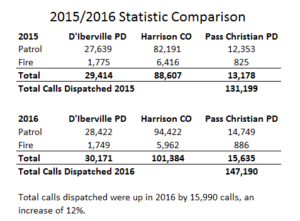 When your call is answered, remember that the dispatcher will seek out answers to the six W's:
WHO, WHAT, WHEN, WHERE, WHY and WEAPONS
When reporting information concerning a vehicle, use the acronym CYMBAL:
C – Color
Y – Year
M – Make
B – Body, (2 door, 4 door, 300 ZX, the model of vehicle)
A – Any other vehicle information that would stand out
L – License State and Tag Number

When calling in about a person, try to give as much of the following information. It could be the way that the subjects are found or identified by law enforcement personnel.
Name of Person (If Known)
Race
Sex
Approximate Age
Height
Weight
Build (Fat, Stocky, Slender)
Hair
Eyes
Physical Characteristics (Scars, Tattoos, Limps)
Clothing Description
Is Subject Armed (Gun, Knife, Baseball Bat)
Our dispatchers are state certified by the Mississippi Board of Standards and Training for Telecommunicators within one year of employment. This training includes successfully completing a 40-hour state certification course and an 8-hour ride along in a patrol vehicle. This certification is good for three years and when dispatchers get to the end of the 2nd year, they must undergo re-certification. This re-certification includes a 16-hour in-service course and 48 hours of continuing education courses.
Save
Save
Save
Save
Save